Marketing Awards - The 2010 Markies
Let's face it, marketing is hard.
It's been called the hardest white collar job in society. It's heads down, non-stop effort to produce results … results that just might blossom into revenue six months in the future. It's a constant balancing act between left and right brain thinking. It's the only profession that very few really understand but most believe they can do.

And hey - how about all that glory?

Right. While your counterparts in sales get bells rung for closing deals, rake in bonuses and 'accelerators' and head off on club trips, there's no 'built-in' recognition for truly outstanding marketing.

Until now.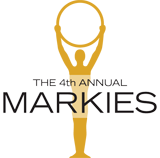 Enter the Markies. The annual Markie Awards honor excellence in marketing. They are the home of creative campaigning, flawless execution, inspirational thought leadership, innovative tactics and outstanding results.
Now is your chance to shine - submit your marketing achievements and earn the recognition that you deserve. We invite you to browse the categories below for the right fit, download and return the submission form. Enter multiple campaigns or success stories if appropriate – there is no limit on the number of entries. Or enter your best campaign in multiple categories if it fits.

Join the ranks of the world's most successful marketers. Earn yourself a Markie!

2010 Categories and Finalists
Select any category to learn more. Our finalists are listed below in alphabetical order, winners are highlighted in bold.